Written by Big Head | 27 November 2009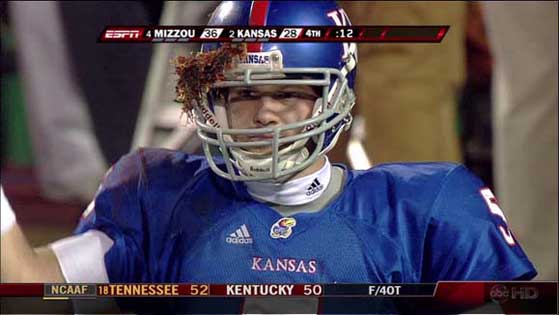 Hate Year Week culminates Saturday afternoon on ABC, ESPN, or ESPN360, and the big ass drum will be on one sideline. Which one is it going to be? Mizzou's of course.
-kU has been bad lately. Ok, they've played like shit. After starting off 3-0, the buckleshoes struggled to grab two more wins before losing their last six. Last week was probably their best showing since mid-October, but even that was a 31 point loss to Texas.
-kU still has a few names you'll know from the past few years- Sod, Kerry Meier, Dez Briscoe, and Jake Sharp. Obviously, kU is an offensive minded team, and those guys are on that side. They are missing Toben Opurum, who's been their best offensive weapon this year, and their OLine blows like a November wind.
-kU's passing offense is pretty solid, ranking 2nd in the conference. Good thing our passing D is good...wait, shit. It's almost a mirror when Mizzou passes- good passing O, kU's pass D is just as bad as Mizzou's. Push??
-DWash, De'Vion Moore, and Kendial Lawrence will be keys in this game. Mizzou has their starting backs, and kU's rushing D is fairly pourous.
-With Toben Opurum out, kU will probably look to throw throw throw. Stec will probably have the D sell out against the pass. This game will rely on Carl Gettis' play (covering Briscoe), and the safety/LBs covering Kerry Meier. That mulleted son of a bitch still gives me nightmares from last year.
-This is Mangino's last game, bowl or not. Of course, kU needs the win to get to a bowl anyway. Shoney's in Lawrence will be looking for a government bailout, stat. Lew has walked MM out far enough on the plank, that it's ready to snap (FAT JOKE!!). Personally, I like Mangino in a kind of Bobby Knight way. He'll be on the market for about a week. It wouldn't surprise me if he took a look at the Louisville gig, or another Big LEast or ACC school.
-Does Danario Alexander go for double digit catches and 150+ yards again? I'd give it a resounding 'YES'. With the option of a run game, kU can't sellout against the pass, which will leave DA open at times. He's obviously Blaine's favorite target, and usually gets the first look. If he's open, watch out.
-Coulter and the Agent Smiths could have heydays against kU's OLine, especially with Sod moving around like a raver on ectasy and Red Bull.
-Jared Perry is donezo for the year after his leg blew up on him. Jerrell Jackson came in last week and dominated, which is what we've waited for since August. As long as Blaine has three solid targets, along with a run game, Mizzou's options will strain kU's D.
-Again, no Blaine Gabbert mistakes and the Tigers should be able to go blow-for-blow. I think there is something everyone has overlooked with Gabbert: he hasn't thrown a pick since the Colorado game on Halloween. Three games without an INT for a sophomore 1st year starter is a good stretch. He's had a great season and has suddenly become probably the best returning B12 QB for '10. I hope I just didn't jinx him.
-The Pro-Combats will be on display Saturday. I prefer to call them 'the bastard child made after a sweet night of love between Mizzou and Oregon'. Yeah, not a fan.
Mizzou is still a 3.5 point favorite, and that should be right. I don't see Mizzou blowing out kU, and it should be a shoot out. With the multiple options on offense, the Tigers will win 35-28. kU has so many things going against them right now- Mangino's shit, Lew Perkins lurking, failing to win since early October, and injuries. Blaine is 1-0 in neutral site rivalry games after blowing up the Illini, so the kid knows pressure. If either teams' defense holds up, it could get ugly.
You can listen online HERE, Rock M Nation will have the usual live thread, and if you're stuck visiting your dumbass drunk uncle over the weekend, peep the ABC coverage map. The coverage blows, but, if you have ESPN360, you'll have it. If you don't have that, we should have a video link posted Saturday. There has always been a vid link to the extra ESPN360 games, and I don't see why there wouldn't be this week.
For kU coverage, I'd suggest Oread Boom Kings.